LUBSAT TECHNOLOGIES PTY
Dstv E48-32 online support

DSTV E48-32 ERROR THERE IS NO SIGNAL DUE TO BAD WEATHER
Dstv E48-32 means There is no signal due to bad weather or a faulty connection from the satellite dish, Missing out some channels, Freezing or squeaking picture, black screen with audio but no video these are the signs of a dstv e48-32 error. To fix this error check if the cable from your satellite dish is connected to the dstv decoder, Major cause might still be that your satellite dish has lost signal from the dstv feed satellite, Therefore the dish has to be re aligned. Mostly its a problem with the Sat dish. Causes  are : Blown out equipment, Dish mis-alignment, Faulty decoder /hardware, Wrong cabling, Small signal levels, Stormy Weather , Solar outages , Rain Fade , explora wrong frequency settings. fault in communal dish system, communal dish settings error, incompatible hardware. solutions on fixing the error at most times will be by use of an accredited installer or mc agents

How to identify the dstv e48-32 error on my explora or HD decode and fix it
Picture freezes only in the evening
vertical freq channels shows only
Error is permanent
No picture but there is sound
No signal on Extraview only
No dstv information or PVR
Call us for technical installations and re-alignments.
Call us to fix dstv error

E48-32

on your

Explora

or Dstv decoders, Freezing picture, channels
missing, No signal, No box office, Low tuner levels
We are Ellies accredited installers , Work guaranteed. Why not call us today ? or find a dstv
installer near you . Another website explaining more about  Fixing dstv e48-32
THE FIX FOR DSTV E48-32 AND LIST OF DSTV INSTALLERS
Re check cabling coming from dish to the decoder.

Check / try restarting your decoder

Re align satellite dish, to gain more signal levels, cause might be you are receiving low signal

Communal dish check your in house cabling, other wise call us

Dstv user might be installing two explora decoders on one LNB

call our installer care line for assistance  

       0110 838281



DSTV E48-32 FORUM
Visit our dstv Forum to see what other users have to say about fixing e48-32 errors or post here to get replies from the public on issues concerning dstv problems. Forum
How to check for dstv signal on you decoder  – E48-32
Press menu or the dstv blue button on the remote. This will bring the dstv panel next use the cursor left and navigate to the settings scroll down to satellite settings . on the right u will see indicators of the signal strength for the dstv explora it should show you 3 user bands with the relevant signal strength. the bar indicating the signal and quality should all be blue. if the bars are black the decoder is not recieving the dstv signal hence the error E48-32 
E48-32 . Dstv stuck on step 3 of 4.  No signal issues
Once the decoder gets stuck at this stage, its the e48-32 error that is stopping it. In other words the decoder cannot search for channels wen there is no dstv signal coming through from the satellite. check picture below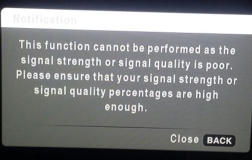 The decoder will not scan past step 3 as it has insufficient signal. If u look at the signal bars in the signal strength monitor you will most likely find the bars black indicating no signal at all. check the picture below of how the signal strength monitor looks when there is no signal e48-32 error.
Dstv subscriber will need to call our installers to clear such an error, because their are so many possible reasons as to why it shows, please give us a call or book for our installers here
HOW TO ALIGN MY DSTV DISH AND FIX E48 32 ERROR
COMMERCIAL DSTV ACCREDITED INSTALLERS